Owner
Tony Spencer, O Gauge section
Scale/Gauge
7mm/O gauge
Outline
GWR
Dimensions
17ft x 22½in
Space required
19ft x 5ft (operating space behind)
Power requirements
1 x 13A socket
Operators/Crew
3-4
Transport expenses
2-3 cars
Availability
Available for 1 or 2 day exhibitions
Contact
Tony Spencer
tony.spencer@iwemrc.org.uk

Bovey Manor is representative of a GWR Branch line terminus. This layout started life as purely a test bed for Don Neighbour (fellow member and former president of the I & WEMRC) to test his loco building skills. Significantly also his track laying skills.
When exhibiting, during part of the day, stock representing the British Rail days of operation is also run to add interest to what is one of the simplest layouts because of its origins. Although relatively small it's great fun to operate, and to date, it has worked first time whenever it has been set up. (True.)

The layout is just 17 feet long in total. As we were asked the question, it is also 22½ inches wide. No idea why. (Probably the garden shed dimensions.) It has also notably been shown at the Gauge 0 Guild spring show at Kettering.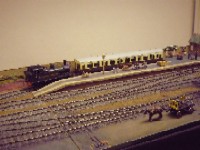 Track and point work are hand-built using C & L track parts. Buildings are scratch-built using plasticard, the station is based on Watlington, the engine shed based on Tetbury and the goods shed and signal box from Lambourne. Locomotives used on the layout are a mixture of kit- and scratch-built, and rolling stock is all from kits.