Owner
Fred Gillin, North American section
Scale/Gauge
On30 (7mm/16.5mm gauge)
Outline
North American, narrow gauge
Dimensions
8ft x 4ft
Space required
10ft x 7ft (operating space behind)
Power requirements
1 x 13A socket
Operators/Crew
3-4
Transport expenses
3 cars
Availability
No longer available for exhibitions
Contact
Fred Gillin
fred.gillin@iwemrc.org.uk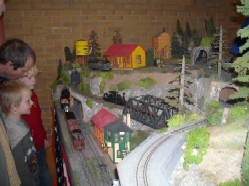 The HT & CWR is to be found in the mountain wonderland of the San Juan country of south western Colorado, and is a branch of the Denver and Rio Grande Western Railroad.
The lower level starts at Durango before reaching Hermosa, where it starts to climb up the Animas Canyon to Cascade at the top. The railroad feeds both passenger and logging trafic at the Rockwood Timber Company and camp.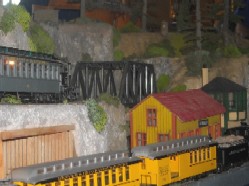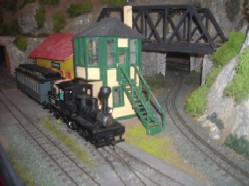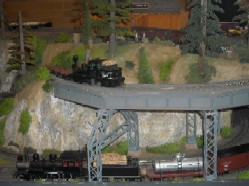 Photos of the layout by Fred Gillin under construction at home.